Waterjet cutters are amazing tools that cut any material.
Traditionally, waterjet cutters have been out of reach for the individual or small business because of the high cost and massive size of the machines.
Popular fabrication tools on the market like 3-D printers and laser cutters, can only work with plastics and other soft materials. CNC machines are great for complex shapes but struggle with cutting flat sheets. Unlike them, WAZER can cut through sheets of any material including metal, stone, ceramic, composites, plastic, rubber, and foam. It cuts the materials the world is made of, and is great for professional-grade fabrication.
The original idea began as a senior design project at Penn Engineering, because we needed an easy-to-use tool that could make precision cuts in hard materials. While there, we conducted early research into low-cost waterjet technology.
The response was incredible, and after a few years of developing our engineering skills at more established companies, we decided to focus full time on building out the first desktop waterjet.
We spent most of 2016 in Shenzhen, China developing the business and further iterating on the design and engineering of WAZER as part of HAX, the world's first and largest hardware accelerator.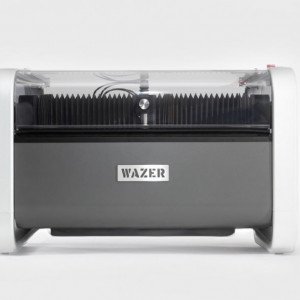 NOU